OUR UPCOMING SHOW AT THE RED BRICK ROAD!



TICKETS ON SALE NOW!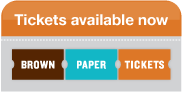 DOWN THE ROAD is a penetrating look at how a relationship fares under the influence of a psychopath.  A married couple–Dan and Iris Henniman, both writers–team up for a true-crime novel that could make or break both of their respective careers.  Face to face with convicted serial killer William Reach, Iris and Dan must each test the limits of his/her own ability to remain objective.  In a prison town in the middle of nowhere, they find that there are only two things to focus on: the pressures of home life and the horrors that Bill Reach shares in vivid detail.  When their book is finished, who will the real victims be?

 SEPTEMBER 18th THROUGH SEPTEMBER 28th
THURSDAY THROUGH SATURDAY AT 8 pm
SUNDAY 4 pm
Featuring: Bryan Keith, Jarrett Kaufman, and Emily Mae Heller

Tickets:
General Admission $18
Seniors/Students $15
Groups of 10 or more, $12
The Red Brick Road theatre company is a proud member of
 The Red Brick Road theatre company is funded partially by the Los Angeles County Arts Commission.